Brass Tube Fittings : The fastest delivery in the world, Period!
Brass Tube Fittings are highly popular in all industries due to their excellent properties and features. Kinnari Steel are Brass Tube Fittings Manufacturer, Brass Tube Fittings Stockiest & Brass Tube Fittings Supplier.

We are a highly trusted brand in the industry that provides excellent quality products. We offer a fine range of Bass Tube Fittings that are available in all shapes, sizes and specifications provided by the clients. Our products are renowned for their superior quality, ultimate strength and extended durability. Over the past 20 years, we have gained clients from all parts of the world. We are also one of the leading exporters and have shipped our products to more than 55 nations.We emphasize greatly on providing quality products and excellent services so as to offer client satisfaction. Our products are manufactured using the latest tools and techniques and have high precision. A team of highly skilled individuals carry out a rigorous testing process and thus there is no scope of defective products. We offer same day shipments of products and our delivery services are the fastest. Having been dedicatedly working towards fulfilling our clients' needs with utmost honesty, we are highly recommended by all of them.Brass Tube Fittings for high pressure are manufactured at Kinnari Steel. It is sold under our brand KSLOK.KSLOK are manufactured to provide compatibility and equivalence with Swagelok and Parker Alok Fittings. Standard material is Brass & Stainless steel. However our specialization is in exotic alloys such as Monel, Inconel , Hastelloy, Titanium, Duplex, 254 SMO etc.
Manufacturing Tube Fittings is a critical process as it consists of a four piece unit:
Nuts
Body
Front Ferrule
Back Ferrule
They are assembled to a tube to form a leak free connection.
Ferrules are the heart of Brass Tube Fittings. They are responsible for any pressure the fitting is able to contain. Our Engineers have developed consistent technology for manufacturing ferrules that sustain the highest pressure.
WHAT IS BRASS?
Brass is an alloy that is made up of copper and zinc, in which zinc and copper can vary in different proportions, so as to get a range of Brasses that have different properties. Brass is highly resistant to corrosion and thus finds many applications in extreme environments. Its high tensile strength makes it an element of great use. It has tight dimensional tolerances, excellent straightness and superior surface characteristics and if thus highly preferable in many industries.Brass is used for various purposes such as decoration for its bright gold-like appearance, gears, bearings, doorknobs, ammunition casings and valves; for plumbing and electrical applications. It is majorly used for making brass musical instruments such as horns and bells and in making zippers. Brass is often used in situations in which it is important that sparks not be struck, such as in fittings and tools around explosive gases.
INTRODUCTION ABOUT BRASS TUBE FITTINGS
Brass Tube Fittings are highly popular in all industries due to their excellent properties and features. They are extremely resistant to corrosion and offer superior connectivity. They provide leak proof connections among different tubing systems and are highly efficient. These tube fittings are designed for instrumentation and process applications where leak-tight performance is critical to quality and productivity.Brass Tube Fittings find their utility in a vast variety of industries. Typically they are used extensively for connections of fuel, oil, air, liquid petroleum, and natural gas lines. They are used in Plumbing, sugar industry, marine industry, aerospace industry and nuclear industry among others. They are much preferred over other tube fittings as they are reusable and are a highly cost efficient option.
PROPERTIES OF BRASS TUBES
CHEMICAL PROPERTIES
| | |
| --- | --- |
| COMPONENT | WT. % |
| C | 60 – 63 |
| Fe | Max 0.35 |
| Other | Max 0.5 |
| Pb | 2.5 – 3.7 |
| Zn | 35.5 |
MECHANICAL PROPERTIES
49000 – 68000 psi
MECHANICAL PROPERTIES
METRIC
ENGLISH
COMMENTS
Tensile Strength, Ultimate
Tensile Strength, Yield
124 – 310 MPa
18000 – 45000 psi
Depending on temper
Elongation at Break
53%
53%
in 457.2 mm
Modulus of Elasticity
97 GPa
14100 ksi
Bulk Modulus
140 GPa
20300 ksi
Typical for Steel
Poisson's Ratio
0.31
0.31
Calculated
Machinability
100%
100%
UNS C36000 (free-cutting brass) = 100%
Shear Modulus
37 GPa
5370 ksi
UNS C36000 (free-cutting brass) = 100%
PHYSICAL PROPERTIES-
| | | | |
| --- | --- | --- | --- |
| PHYSICAL PROPERTIES | METRIC | ENGLISH | COMMENTS |
| Density | 8.49 g/cc | 0.307 lb/in3 | at 20°C (68°F) |
APPLICATIONS OF BRASS PIPES
Typical applications of Brass Pipes include:
Sugar Industry
Plumbing
Oil and gas tubings
Aerospace industry
Marine Industry
Furniture
Ammunition
Special high tensile brass for valves
Construction
Brass Tube Fittings come in the following connections
---
It come with lifetime replacement warranty and NACE 3.1 Certifications. Customers are given leverage of full traceability for original tube fitting.Our ISO 9001:2008, ISO 14001:2004 & OHAS 18001:2007 serve as trust seals.Customization is another feature. We offer to mark Tube Fittings as per our Part Number or Customer Part Number. Threads can be customized in NPT, BSPT & BSPP as per requirement.One of major factors of success is fastest delivery in the Industry. We stock 85,000+ fittings and valve parts for instant deliveries.
Send us your inquiry to see for yourself.
Production:
Our production range includes:
Tube Fitting
Valves & Manifold
Condensate Pot
Flange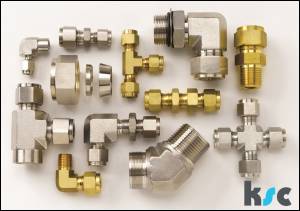 Our production runs in evergreen full capacities. We can extract 30,000 assemblies at full capacity. Automated CNC Machines of German standards produce these parts.However, the backbone is the stringent quality control and systems. Each and every unit is individually tested prior to dispatch. We have achieved a phenomenal 0% rejection rate in exports in a decade of excellence.Exports have gained prominence at Kinnari Steel. We have executed export orders for clients in more than 53 countries so far. The number and volumes continue to increase.Branding and packaging is as important as the product itself. Brass Tube Fittings are packed in branded boxes with barcode lot identification stickers. Fittings must reach the customer in the form manufactured. It must be free from damage in transit. We provide plastic cap protection to the threads for safety.
Request your Free Sample Kit for Brass Tube Fittings.
ABOUT KINNARI STEEL
Kinnari Steel is a leading distributor of Stainless Steel and Alloy Steel Products. We have been involved in manufacturing and supplying stainless steel 316 pipes since 2 decades. We hold great expertise in sourcing needs of clients for nickel based Alloys. Our aim is to provide best services in the industry and over the years we have gained much prominence due to propulsion and expertise in high nickel alloys. We thus handle each of our clients' queries with great sincerity and help them figure out their requirements.In order to maintain the highest standards of quality we make sure that each and every unit is individually inspected and tested, thereby cropping out the scope of any sort of anomaly. Great emphasis is placed on making our products in an environment friendly way and prevent any kind of harm to the nature. We are known across our clients for fast delivery of highly products and we have a very low rejection rate. We put great efforts in catering to the needs of our clients and thus we have a huge base of happy customers.Our head office is located in Mumbai. Kinnari Steel Corporation is certified by ISO 9001: 2008 for continued excellence in providing impeccable quality products to its customers.
WHAT PROBLEMS CUSTOMERS TYPICALLY FACE
Non availability of products
Late deliveries of goods
Poor/Unprofessional Packing
Poor surface finish
No Mill test report
Poor after sales service
Supply of wrong grades
Material inconsistent with ASTM Standards
Very hard material for use
Lack of knowledge
Product fails under high pressure
High pricing of the goods due to supplier commission
Minus tolerance
Weld repair of goods
HOW WE SOLVE THESE PROBLEMS AND VALUE ADDITIONS WE PROVIDE
Our customers are offered a world class buying experience with us
We assist fastest delivery of goods
We carry out Digital Mill test report in accordance with EN10204 NACE 3.1, NACE 3.2
3rd Party inspection is carried out
Our products have High pressure sustainability
Product replacement warranty is given
Our specialized team assists customers with after sales support and service
We offer High quality packaging and Packing for sea and Air transport
Same day shipping of the goods is carried out
Stringent Quality Testing and Control are made
We have ISO 9001:2008 , ISO 14001:2004, OHSAS 18001:2007 Certifications
We have maintained <1% rejection rate of the goods in over a decade
We offer competitive prices
Heat Number Traceability is provided

Send us your requirements now!
LOOKING TO BUY BRASS TUBE FITTINGS? Contact Us