Swagelok SS-200-3TFT equivalent Kslok KSC-2FRT2N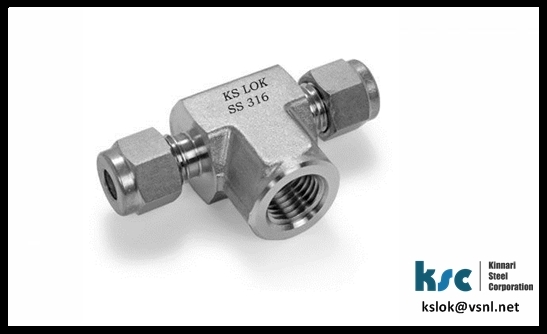 | Material | Stainless Steel | Type | Female Run Tee |
| --- | --- | --- | --- |
| Connection 1 Type | KSLOK Tube Fitting | Connection 1 Size | 1/8″ |
| Connection 2 Type | KSLOK Tube Fitting | Connection 2 Size | 1/8″ |
About KSLOK
Ferrule Fitting of high quality and precision finishing are manufactured by KSC are are sold under our brand KSLOK Ferrule Fitting. We manufacture both single ferrule and double ferrule fittings . Popular brands include Swagelok and Parker. KSLOK Ferrule Fitting is fully interchangeable with Swagelok SS-200-3TFT & Alok fittings.
KSLOK Ferrule fitting are manufactured in Stainless steel and Alloy steel grades. Most poplular stainless steel grades include ss304 & ss316. Alloy steel grades include , Monel, Inconel,Hastelloy , Duplex Steel , Super Duplex Steel, 254 SMO etc. Ferrule fittings are also manufactured in Brass.
KSLOK Ferrule fitting are manufactured to sustain high pressures of upto 6000 psig. Fittings come with a product replacement warranty of 1 year and have inclusive Mill test certificate by KSC.
Competitor's Reference Part Number :
Swagelok
SS-200-3TFT
Parker A Lok
2FRT2N
Duolok
D2FRT2
Letlok
771LF 1/8 X 1/8
Tylok
2-3TFT-2
Gyrolok
2TFT2
Dklok
DTRF
2-2N
Bilok
DTF 2-2
KSLOK Female Run Tee KSC-2FRT2N is fully interchangeable with Swagelok 200-3TFT and respective part numbers of various competitors.