LOK Tube Fittings : Manufacturer, Stockiest & Supplier :

LOK Tube Fittings for high pressure are manufactured at KSC. It is sold under our brand KSLOK LOK Tube Fittings.Kinnari steel are manufacturers and suppliers of LOK Tube Fittings.KSLOK LOK Tube Fittings are manufactured to provide compatibility and equivalence with Swagelok and Parker Alok Fittings. Standard material is Brass & Stainless steel. However our specialization is in exotic alloys such as Monel, Inconel , Hastelloy, Titanium, Duplex, 254 SMO etc.
Manufacturing LOK Tube Fittings is a critical process as it consists of a four piece unit:
Nuts
Body
Front Ferrule
Back Ferrule
They are assembled to a tube to form a leak free connection.Ferrules are the heart of LOK Tube Fittings. They are responsible for any pressure the fitting is able to contain. Our Engineers have developed consistent technology for manufacturing ferrules that sustain the highest pressure.
LOK Tube Fittings come in the following connections
---
LOK Tube Fittings come with lifetime replacement warranty and NACE 3.1 Certifications. Customers are given leverage of full traceability for original tube fitting.Our ISO 9001:2008, ISO 14001:2004 & OHAS 18001:2007 serve as trust seals.ustomization is another feature. We offer to mark LOK Tube Fittings as per our Part Number or Customer Part Number. Threads can be customized in NPT, BSPT & BSPP as per requirement.One of major factors of success is fastest delivery in the Industry. We stock 85,000+ fittings and valve parts for instant deliveries.
Send us your inquiry to see for yourself.
Production:
Our production range includes:
Tube Fitting
Valves & Manifold
Condensate Pot
Flange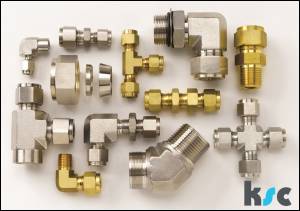 Our production runs in evergreen full capacities. We can extract 30,000 assemblies at full capacity. Automated CNC Machines of German standards produce these parts.However, the backbone is the stringent quality control and systems. Each and every unit is individually tested prior to dispatch. We have achieved a phenomenal 0% rejection rate in exports in a decade of excellence.Exports have gained prominence at KSC. We have executed export orders for clients in more than 53 countries so far. The number and volumes continue to increase.Branding and packaging is as important as the product itself. LOK Tube Fittings are packed in branded boxes with barcode lot identification stickers. Fittings must reach the customer in the form manufactured. It must be free from damage in transit. We provide plastic cap protection to the threads for safety.
Request your Free Sample Kit for LOK Tube Fittings.