Carbon Steel Round Bar : Manufacturer, Stockiest and Supplier : Kinnari Steel
Carbon Steel Round Bar : Manufacturer, Stockiest and Supplier : Kinnari Steel
Carbon Steel Round Bar are in huge demand due to their multiple applications. Kinnari Steel are Carbon Steel Round Bar Manufacturer, Carbon Steel Round Bar Stockiest & Carbon Steel Round Bar Supplier.

Contact Us For Your Requirement of Carbon Steel Round Bar
Carbon steel Round Bars Rods
We, at Kinnari Steel, are well known for carrying the highest stock of Carbon Steel Round Bar in the country. Our excellent goods and services have impressed customers not only in India, but also in other countries. We have distributors in all the five countries in the world. We are known for maintaining the stock of goods, as in our corporation, a new set of raw materials is ready to replenish as soon as another set is dispatched to be delivered to the customer.
The recent years have found a hike in the demand for Carbon Steel Round Bar and in accordance with the increment, our policies have been reformed to become more and more customer friendly. The past decade has shown a rejection rate of less than one percent, and that is the biggest proof of the truth behind all our claims. We are among the top suppliers who ensure the maintenance of the material not only till it reaches your doorstep, but also after that.
What is Carbon steel Round Bars Rods?
Carbon steel is the alloy of steel, in which carbon is added in the percentage range of 0.12-2%.in general no minimum percentage of constitution is specified for chromium, niobium, nickel and other alloying elements. Higher the carbon content, greater is the hardness and strength through heat treatment. But ductility decreases with the increment in carbon. Also, carbon lowers the melting point of steel.
Mild steel (plain carbon steel), is the most commonly used form of carbon steel. Its properties are suitable for many applications. It is sufficiently malleable and ductile. It is of high economic value as the price is relatively low and it can be easily formed.
Contact us for a quick quote:
Chemical properties
| | |
| --- | --- |
| Element | Content |
| Carbon, C | 0.14 – 0.20 % |
| Iron, Fe | 98.81 – 99.26 % (as remainder) |
| Manganese, Mn | 0.60 – 0.90 % |
| Phosphorous, P | ≤ 0.040 % |
| Sulfur, S | ≤ 0.050 % |
Mechanical properties
| | | |
| --- | --- | --- |
| Mechanical Properties | Metric | Imperial |
| Hardness, Brinell | 126 | 126 |
| Hardness, Knoop (Converted from Brinell hardness) | 145 | 145 |
| Hardness, Rockwell B (Converted from Brinell hardness) | 71 | 71 |
| Hardness, Vickers (Converted from Brinell hardness) | 131 | 131 |
| Tensile Strength, Ultimate | 440 MPa | 63800 psi |
| Tensile Strength, Yield | 370 MPa | 53700 psi |
| Elongation at Break (In 50 mm) | 15.0 % | 15.0 % |
| Reduction of Area | 40.0 % | 40.0 % |
| Modulus of Elasticity (Typical for steel) | 205 GPa | 29700 ksi |
| Bulk Modulus (Typical for steel) | 140 GPa | 20300 ksi |
| Poissons Ratio (Typical For Steel) | 0.290 | 0.290 |
| Machinability (Based on AISI 1212 steel. as 100% machinability) | 70 % | 70 % |
| Shear Modulus (Typical for steel) | 80.0 GPa | 11600 ksi |
It can be easily welded. Post welding treatment proves to be beneficial. It is also has a high machine-ability. It does not respond very well to heat treatment, but cold working improves its strength.
It has several applications. It also forms a major part of the constitution of low temperature and pressure vessels. They are also used in making bridges and buildings. Fixtures, mounting plates and spacers also use low carbon steel. It is also used to prevent cracks in bends. It is suitable for applications where high strength is not a major criterion.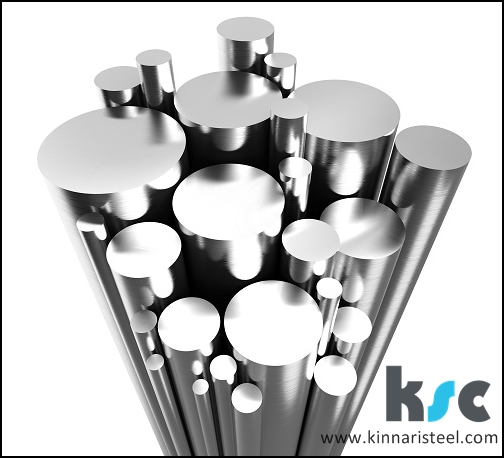 Why choose us?
This alloy is certainly one of the most used alloys in the industrial sector. Therefore, we consider it our primary responsibility to make this useful alloy available to you in the best form.
As mentioned above, we specialize in delivering high quality products at a much faster rate than the other suppliers. Customers generally face problems like non availability of the material, when it comes to buying from most of the suppliers. We, at Kinnari Steel lay major emphasis on maintaining our stock at all times, as we understand that need might arise at any moment. We also provide good packaging so that the alloys don't get influenced by the adversities of the environment, while being transported to long distances. Customers are also found complaining about the lack of after sales services in transactions with most of the firms. Also, due to high industrial demand, the material should be thoroughly checked, but unfortunately many a times, the products fail to meet the ASTM standards. Sometimes, due to the pressure of demands, the producers end up supplying wrong grades of the alloy, resulting in major losses. The products manufactured like that are likely to fail under pressure. Also, customers seldom become victims of the ongoing middle man culture, and fall into the web of commissions. So they have to pay more than what is required.
As mentioned above, we keep our consumers from facing the problem of the unavailability of alloys through our policy of maintaining a constant stock. This implies that as soon as the material is dispatched to be transported to the customer, the other set is ready to replenish the stock immediately. This continuity is rarely broken. We have been certified by ISO 17025 Standards Laboratory on the quality of the alloys we produce and supply. Our products are made in compliance with ASTM standards. We focus on maintaining correct degree of hardness and adding appropriate amount of other constituents. Our products also go through an unbiased third party inspection in government as well as private labs to consolidate the claim. We have the fastest delivery service, giving utmost priority to urgent orders. So the products retain their economic value on reaching the consumer. Once associated with our clients, we are always eager to extend our services whenever they need. We never fail to pay utmost attention to the problems of our clients and take the needed steps. We are available almost every time of the year to attend to your problems and fix them in the most effective manner. We specify the heat number on the raw material, so that the consumers can trace the history and application of the product. The consumers can freely contact us regarding various grades and shapes of the alloys. If, in any case, we somehow fail to meet the desired quality, we assure the customers of a product replacement warranty. With a mill test report in accordance with EN10204 NACE 3.1, NACE 3.2, we are associated with a large number of happy clients. The past records suggest that we have had less than one percent rejection rate over the last decade. This is a proof of how we hold customer satisfaction as a primary responsibility.