Alloy 20 Sheet : Manufacturer, Stockiest and Supplier : Kinnari Steel
Incoloy Alloy 20 Sheet : Manufacturer, Stockiest and Supplier : Kinnari Steel
Incoloy Alloy 20 Sheet are alloys which are composed of corrosion and oxidation resistant materials. They are also favorable for usage in extreme environments. Kinnari Steel are Incoloy Alloy 20 Sheet Manufacturer, Incoloy Alloy 20 Sheet Stockiest & Incoloy Alloy 20 Sheet Supplier.

Incoloy Alloy 20 Sheets
Kinnari Steel has emerged as the foremost producer and supplier of Alloy 20 sheets. We have two decades of experience in handling the best quality nickel based alloys in the country. We have the highest stock in the country, with even the non- standard sizes incorporated. Our stock is constant, as it is replenished as soon as the material is dispatched to reach the customer. This way, none of our clients face the problem of unavailability of this alloy.
Kinnari Steel fast delivery, and maintenance of quality as per ASTM standards, have allowed us to claim a rejection rate of less than one percent. This implies how important customer satisfaction is for us. We ensure that the customer gets the best out of the trade, not only till the delivery of goods, but also after that. Thus, we don't lag behind even in terms of the after sales services provided by us. Once chosen, we never fail to prove ourselves as the best choice of customers.
Know more about Alloy 20
Alloy 20 is an austenitic alloy of nickel, chromium and iron, with further additions of molybdenum and copper. It is stabilized by adding niobium and has low carbon content.
Specification
| | | | | |
| --- | --- | --- | --- | --- |
| Standard | UNS | Werkstoff Nr. | EN | AFNOR |
| Alloy 20 | N08020 | 2.4660 | NiCr20CuMo | Z2NCUD31-20AZ |
Chemical properties
The chemical composition nickel alloy 20 is outlined in the following table.
| Element | Content (%) |
| --- | --- |
| Iron, Fe | 35 |
| Nickel, Ni | 32-38 |
| Chromium, Cr | 19-21 |
| Copper, Cu | 3-4 |
| Manganese, Mn | ≤2 |
| Molybdenum, Mo | 2-3 |
| Niobium, Nb | ≤1 |
| Silicon, Si | ≤1 |
| Carbon, C | ≤0.07 |
| Phosphorous, P | ≤0.045 |
| Sulfur, S | ≤0.035 |
Mechanical properties
The mechanical properties of nickel alloy 20 are displayed in the following table.
| Properties | Metric | Imperial |
| --- | --- | --- |
| Tensile strength (annealed) | 620 MPa | 89900 psi |
| Yield strength (annealed) | 300 MPa | 43500 psi |
| Elongation at break (annealed) | 41% | 41% |
It resists corrosion by acids, particularly sulfuric acid. It also prevents stress corrosion cracking in chloride environments. It has excellent mechanical properties and can be fabricated very easily. It prevents carbide precipitation while being welded. It has a very good corrosion resistance in general.
It has a wide range of uses. It is used by the processing units in pharmaceutical, plastic, acid and heavy chemical industry. It is also used in petrochemical process equipment. It is also used in the equipment of synthetic rubber manufacturing industry. Food and dye producing units also make use of Alloy 20.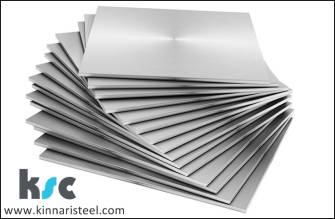 The problem
In the ever increasing competition in the market, customers are likely to get trapped in the midst of the malpractices like high supplier commission, and unavailability of raw materials. Even if they get the products, they are not up to mark. The level of hardness is not appropriate to be put to use. There are often no mill reports to guarantee the claims about the quality of products. The material is of low quality and yields under pressure. The goods take forever to be delivered and when they are, they tend to lose their economic value on account of poor, unprofessional packaging. The suppliers often supply wrong grades due to lack of knowledge. Also, many times, rejected alloys are supplied without proper treatment. The products fail to meet the ASTM standards. There is no control on quality and testing. Customers are also found complaining about the lack of after sales services in transactions with most of the firms. The producers turn their heads away as soon as they supply the materials to the consumer, and extend no further help if something goes wrong. Ultimately, it is the customer who is the sufferer in this vicious circle.
Why pick Kinnari Steel Corporation as your supplier?
Kinnari Steel have been certified by ISO 17025 Standards Laboratory on the quality of the alloys we produce and supply. Our products never fail to comply with ASTM standards. We also have been certified by ISO 9001:2008 , ISO 14001:2004, OHSAS 18001:2007. Wepay special attention towards maintaining our stock and ensuring fast delivery, sometimes same day delivery on urgent requests. Also, our team ensures that the packaging is done in a highly professional manner so that the material reaches the customer's doorstep in the same form as it was in while being dispatched. The impeccable surface finish and appropriate hardness of goods has impressed customers worldwide. We are proud to be associated with industries in all the five continents in the world. Once associated with our clients, we are always eager to extend our services whenever they need. This implies that we take responsibility even after the customer receives the goods, through our after sales services. If, by any chance (however small it may be), the products fail to satisfy the customers, we provide them with product replacement service to ensure that they receive better. Moreover, we are care for the environment, as we recycle scrap metal and convert it into the desired material of superior quality. Thus, no resource is wasted. We specify the heat number on each sheet, so that the consumer himself can verify the history of the product.. We are extremely accessible in terms of consultation about various sizes and grades of the alloys. We provide our with world class buying experience. We also make sure that the pricing is judicious, with no commission involved in the process. Thus, our clients are kept from falling into vicious traps. We have a rejection rate of less than one percent, and happily look forward to establish trade relations with a larger number of clients in the near future.