SS 904L Sheets : Stockiest & Supplier :

Contact Us For Your Requirement of SS 904L Sheets
SS 904L Sheets (UNS number N08904)
We, at Kinnari Steel Corporation, are very well known for having the highest stock of very high quality SS 904L Sheets, in the country. We are very efficient at handling, both bulk and small orders for the same. We have the fastest delivery service, giving appropriate priority to urgent orders. We also provide same day delivery on urgent orders. We also maintain a constant stock, so that the clients do not face the problem of unavailability of the alloy.
Over the last two decades, as the demand for 904L sheets has increased, Kinnari Steel Corporation has seen a rejection rate of less than one percent. This is primarily because of our one and only motive, that is customer satisfaction. Our performance in the last few years has taken us to a platform of immense trust by the customers. We leave no stone unturned to make our clients happy.
Know more about SS 904L Sheets
904L is a grade of austenitic stainless steel which is non-stabilized. It has low carbon content. Copper is further added to make it more resistant to reducing acids, especially sulfuric acid. Some of its properties are given below.
Specification
| | | | | | | | |
| --- | --- | --- | --- | --- | --- | --- | --- |
| Standard | UNS | Werkstoff Nr. | EN | BS | KS | JIS | AFNOR |
| 904L | N08904 | 1.4539 | X1NiCrMoCu25-20-5 | 904S13 | STS 317J5L | SUS 890L | Z2NCUD31-20AZ |
Chemical properties
The table below provides the compositional ranges of grade 904L stainless steels:
Table 1. Composition ranges of grade 904L stainless steels
Grade
C
Mn
Si
P
S
Cr
Mo
Ni
Cu
904L
min.
–
–
–
–
–
19
4
23
1
max.
0.02
2
1
0.045
0.035
23
5
28
2
Mechanical properties
The typical mechanical properties of grade 904L stainless steels are given in the table below:
Table 2. Mechanical properties of grade 904L stainless steels
Grade
Tensile Strength (MPa) min
Yield Strength 0.2% Proof (MPa) min
Elongation (% in 50mm) min
Hardness
Rockwell B (HR B)
Brinell (HB)
904L
490
220
36
70-90 typical
150
It is extremely resistant towards corrosion by warm sea water. It also combats stress corrosion crackling due to the presence of chloride ions. That is primarily because of the high amount of nickel present in it. Copper combats corrosion by reducing acids in both mild and aggressive conditions. It also offers good oxidation resistance, up to 400 degree Celsius. It can be welded by all conventional methods. It does not require pre-heat and post-weld heat treatments. It can also be machined using any method.
904L has a wide range of applications. It is used in oil refinery components. It is also used in sea water cooling devices and gas scrubbing plants. Pulp and paper factories also use grade 904L. acid processing plants also use this grade of stainless steel.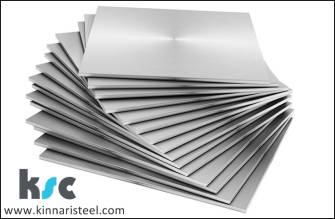 The problem faced by the customers
In the ever increasing competition in the market, the quality of goods and services has degraded to a large extent. Customers often face the problem of unavailability of good quality alloys in the market. They have to wait for days to get them. Also, many times, they have to compromise on the quality due to the urgency of their needs. They end up with poor quality alloys, which lack proper level of hardness and have a bad surface finish. The alloys often do not comply with ASTM standards. They are too hard to be put to use and sometimes yield under high pressure. They do not have any mill report in favor of the claims about good quality. The goods take forever to be delivered and when they are, they tend to lose their economic value on account of poor, unprofessional packaging. Also, scrap metal is supplied without proper treatment. Customers also end up paying more than required due to supplier commission. They often feel lost after getting the products, due to lack of after sales services. Thus, in the midst of all the dubious practices, the customer ends up in a loss.
What makes us different?
As mentioned above, we keep our consumers from facing the problem of the unavailability of alloys through our policy of maintaining a constant stock. As soon as the material is dispatched to be transported to the customer, the other set is ready to replenish the stock immediately. This continuity is rarely broken. We have been certified by ISO 17025 Standards Laboratory on the quality of the alloys we produce and supply. Our products are made in compliance with ASTM standards. We focus on maintaining correct degree of hardness and adding appropriate amount of other constituents. Our products also go through an unbiased third party inspection in government as well as private labs to consolidate the claim. We have the fastest delivery service, giving utmost priority to urgent orders and our packaging methods are highly professional. So the products retain their economic value on reaching the consumer. Once associated with our clients, we are always eager to extend our services whenever they need. We never fail to pay utmost attention to the problems of our clients and take the needed steps. We are available almost every time of the year to attend to your problems and fix them in the most effective manner. We specify the heat number on the raw material, so that the consumers can trace the history and application of the product. The consumers can freely contact us regarding various grades and shapes of the alloys. If, in any case, we somehow fail to meet the desired quality, we assure the customers of a product replacement warranty. With a mill test report in accordance with EN10204 NACE 3.1, NACE 3.2, we are associated with a large number of happy clients and look forward to an increase in the number.