Stainless Steel 316 Pipes
Stainless Steel 316 Pipes : Manufacturer, Stockist & Supplier : Kinnari Steel
Kinnari Steel is a manufacturer and supplier of high-quality Stainless steel 316 pipes in the Indian market. We have been delivering superior quality products to our clients for over 2 decades, and client satisfaction is our main aim. Kinnari steel is a dedicated firm that caters to the needs and requirements of the clients and makes sure they do not face any sort of problems.


Contact Us  For Your Requirement of Stainless steel 316 pipes
Our client base is established all across the globe and we are highly recommended by our clients. All our activities are directed towards the best buying experience for our customers. We provide products of the highest quality and our steadfast team ensures systematic and timely delivery of the products.
WHAT IS STAINLESS STEEL 316?
Stainless steel 316 is a grade of stainless steel that when added with molybdenum, become similar to the 316 and 316L grades. The addition of molybdenum improves the corrosion resistance property of the alloy and makes it highly resistant to pitting and crevice corrosion in chloride environments. The 316 grade of stainless steel has excellent weld-ability, with or without the addition of filler metal and even at cryogenic temperatures it shows extreme toughness and strength.
INTRODUCTION ABOUT STAINLESS STEEL 316 PIPES
Stainless steel 316 pipes have molybdenum in them that makes it extremely efficient towards resisting corrosion. It is an overall better grade than grade 316 and offers a particularly higher resistance to pitting and crevice corrosion in chloride environments. The high molybdenum and nickel content of the alloy enforce the stainless steel 316 grade to work under aggressive environments.
316 stainless steel pipes have been used for its high strength, toughness and workability, coupled with increased corrosion resistance. It has been found to be applicable in various industries that require products that can work under high pressure and temperature. The pipes are useful in processes such as water treatment, waste treatment, petrochemical, chemical and pharmaceutical industries for moving liquids or gases under high pressure. Other applications include handrails, poles and support pipe for salt water and corrosive environments.
Specification
| | | |
| --- | --- | --- |
| Standard | UNS | Werkstoff Nr. |
| SS 316 | S31600 | 1.4401 |
PROPERTIES OF STAINLESS STEEL 316
CHEMICAL PROPERTIES
Grade
C
Mn
Si
P
S
Cr
Mo
Ni
316LMin- – –

—–16.02.0010.0

MAX
0.03
2.0
0.75
0.045
0.03
18.0
3.00
14.0
MECHANICAL PROPERTIES
Grade
Tensile
Strength
(MPa) min
Yield Strength
0.2% Proof
(MPa) min
Elongation (%
in 50mm) min
Hardness
Rockwell B
(HR B) max
Brinell (HB)
max
316L
485
170
40
95
217
PHYSICAL PROPERTIES
Grade
Density
(kg/m3)
Elastic
Modulus
(GPa)
Mean Coefficient of
Thermal Expansion (μm/m/°C)
Thermal
Conductivity
(W/m.K)
Specific
Heat 0-
1000C
(J/kg.K)
Electrical
Resistivity
(nΩ.m)
0-1000C
0-3150C
0-5380C
at 1000C
at 5000C
316/L/H
8000
193
15.9
16.2
17.5
16.3
21.5
500
740
APPLICATIONS OF STAINLESS STEEL 316 PIPES
Typical applications of stainless steel 316 pipes include:
Food preparation equipments, particularly in chloride environments
Pharmaceuticals
Marine applications
Architectural applications
Medical implants, including pins, screws and orthopaedic implants like total hip and knee replacements
Fasteners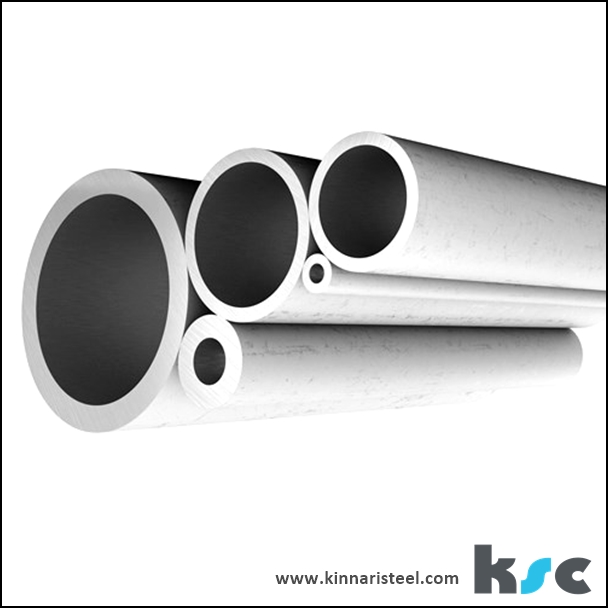 ABOUT KINNARI STEEL
Kinnari Steel Corporation is a leading distributor of Stainless Steel and Alloy Steel Products. We have been involved in manufacturing and supplying Stainless steel 316 pipes since 2 decades. We hold great expertise in sourcing needs of clients for nickel based Alloys. Our aim is to provide best services in the industry and over the years we have gained much prominence due to propulsion and expertise in high nickel alloys. We thus handle each of our clients' queries with great sincerity and help them figure out their requirements.
In order to maintain the highest standards of quality we make sure that each and every unit is individually inspected and tested, thereby cropping out the scope of any sort of anomaly. Great emphasis is placed on making our products in an environment-friendly way and prevents any kind of harm to nature. We are known across our clients for fast delivery of high products and we have a very low rejection rate. We put great efforts in catering to the needs of our clients and thus we have a huge base of happy customers.
Our head office is located in Mumbai. Kinnari Steel Corporation is certified by ISO 9001: 2008 for continued excellence in providing impeccable quality products to its customers.
WHAT PROBLEMS CUSTOMERS TYPICALLY FACE
Non-availability of products
Poor quality of products
Late deliveries
Poor/Unprofessional Packing
No control on quality and testing
High rejection rate
Poor after sales service
Supply of wrong grades
Material inconsistent with ASTM Standards
Very hard material for use
Product fails under high pressure
High pricing of the goods due to supplier commission
No inspection of the goods
Weld repair of goods
HOW WE SOLVE THESE PROBLEMS AND VALUE ADDITIONS WE PROVIDE
We offer a World class buying experience
KS offer First class services and Products of the utmost quality to our customers
We ensure a fast track delivery of products
Mill test report/ Digital Mill test report in accordance with EN10204 NACE 3.1, NACE 3.2
We carry out an intensive 3rd Party inspection
Our products endure high-pressure sustainability
We provide Product replacement warranty
A dedicated team looks after sales support and services
We provide High-quality packaging/Premium Packaging and Packing for sea and Air transport
KSC has ISO 9001:2008 , ISO 14001:2004, OHSAS 18001:2007 Certifications
We hold a high experience in working with Nickel-Based Alloys
Consultancy for alternate sizes and material is also offered to the clients
Heat Number Traceability
We look after Customized marking as per customer requirement
LOOKING TO BUY Stainless Steel 316 Pipes? Contact Us
Types Of Stainless Steel 316 Pipes