Stainless Steel 317L Round Bars Rods UNS S31703
Stainless Steel 317L Round Bars Rods :Stockiest & Supplier :

Contact Us For Your Requirement of Stainless Steel 317L Round Bars Rods
We, at Kinnari Steel Corporation, are well known for excellent execution of both, bulk and small orders of stainless steel 317L Round Bars Rods of grade 317L. We are known for maintaining the stock of goods, as in our corporation, a new set of raw materials is ready to replenish as soon as another set is dispatched to be delivered to the customer. We have the highest stock in the country, with even the non- standard sizes incorporated. We ensure that our clients get the best out of the trade in terms of quality of goods as well as services.
Over the last two decades, as the industrial demand grew, so did the name of Kinnari Steel Corporation. Our excellent services have led us to a platform of immense trust among the consumers. At Kinnari Steel Corporation, nothing is more important than the satisfaction of the customers.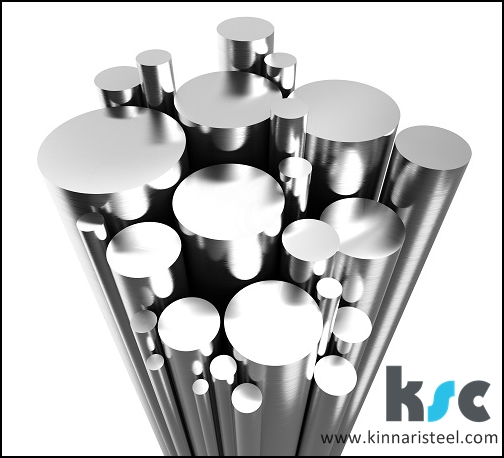 Know more about Stainless Steel 317L Round Bars Rods
It is a molybdenum containing alloy of steel. It has a low carbon content with increased additions of chromium and nickel. This ensures better corrosion resistance and increased resistance to chemical attack for sulfurous, acetic, formic, citric, and tartaric acids. Due to low carbon content, it is less sensitive to welding. It has higher creep and stress to rupture. It also has a high tensile strength at elevated temperatures
Contact us for a quick quote:
Specification
Chemical properties
The chemical composition of Stainless Steel 317L Round Bars Rods is outlined in the following table.
| | |
| --- | --- |
| Element | Content (%) |
| Iron, Fe | Balance |
| Chromium, Cr | 18-20 |
| Nickel, Ni | 11-15 |
| Molybdenum, Mo | 3-4 |
| Manganese, Mn | 2 |
| Silicon, Si | 1 |
| Phosphorous, P | 0.045 |
| Carbon, C | 0.03 |
| Sulfur, S | 0.03 |
Mechanical properties
The mechanical properties of Stainless Steel 317L Round Bars Rods are displayed in the following table.
| | | |
| --- | --- | --- |
| Properties | Metric | Imperial |
| Tensile strength | 595 MPa | 86300 psi |
| Yield strength | 260 MPa | 37700 psi |
| Modulus of elasticity | 200 GPa | 29000 ksi |
| Poisson's ratio | 0.27-0.30 | 0.27-0.30 |
| Elongation at break (in 50 mm) | 55% | 55% |
| Hardness, Rockwell B | 85 | 85 |
It is very useful in a number of industries, commonly being used to handle sulfur, pulp liquor, acid dyestuffs, acetylating and nitrating mixtures, bleaching solutions, severe coal and oil, and many chemical compounds. Some other applications that use alloy 317L include paper and pulp handling equipment. Chemical and petrochemical processing equipment also use this alloy. Condensers in fossil and nuclear fueled power generation stations make use of stainless steel 317L on a large scale. Food processing equipment and textile equipment also utilize this extremely beneficial alloy.
The grief of the consumer today
The customers generally fall into the trap of middlemen and end up paying huge sums of money as commission. They do not find raw materials available with most of the suppliers. In the ever increasing competition, it is the quality of goods and services that is degrading at an alarming rate. The customers find themselves struggling with high commission, and poor quality of the supplied material. There are often no mill reports to guarantee the good quality of products. The material is often very hard to be put to use and yields under high pressure. The materials are inconsistent with the ASTM standards. In cases of long distance transportation, the goods take forever to be delivered and when they are, they tend to lose their economic value on account of poor, unprofessional packaging. Also, sometimes producers end up supplying wrong grades of the alloy, resulting in major losses. In the name of environment protection they end up supplying scrap material without proper treatment. That often leads to increase in rejection rates. There is no control on quality and testing. The growing distress amongst the consumer is an example of the darker side of the market. In the midst of false claims and promises, it is the customer who ends up in severe losses.
What makes consumers trust us?
We have been certified by ISO 17025 Standards Laboratory on the quality of the alloys we produce and supply. Our products are in accordance with ASTM standards. Our mill reports are in accordance with EN10204 NACE 3.1, NACE 3.2. We lay a major emphasis on making every transaction customer friendly. We pay attention to each and every need of the customer. We never fail to extend a helping hand to our clients, even after the product has reached them. . We are known for delivering goods at the fastest rate in the country. We are highly efficient in packaging for long distance transportation. We specify the heat number on each product, so that the consumer himself can verify the history of the product. We happily claim a rejection rate of less than one percent. We are proud to be associated with industries in all the five continents in the world. We try our level best to live up to the promises we make, and we rarely fail in doing so. And in case we do, we also provide an additional benefit of product replacement warranty. We make sure that our clients have minimum complaints and maximum benefit of our services. With ISO 9001:2008, ISO 14001:2004, OHSAS 18001:2007 Certifications in our support, we proudly look forward to associate with more and more customers.