Stainless Steel 321 Sheets
Stainless Steel 321 Sheets:Stockiest & Supplier

Contact Us For Your Requirement of Stainless Steel 321 Sheets
Kinnari Steel Corporation is one of the topmost producers and distributors of stainless steel grade 321. We prioritize demands in accordance with urgency and pay heed to customer satisfaction. We are known for maintaining the stock of goods, as in our corporation, a new set of raw materials is ready to replenish as soon as another set is dispatched to be delivered to the customer. We have supplied stainless steel 321 to industries in more than 13 countries, with the demand for our goods increasing day by day. We ensure fast delivery along with superior quality. It is the growing trust among the customers that leads us to claim a rejection rate of less than one percent.
The recent years have seen a major hike in the demand of this alloy, and we have always lived up to the promise of supplying high quality goods to our clients. This is one of the primary reasons why we have a huge stand in the market when it comes to manufacturing and supplying stainless steel grade 321.
Know more about the Stainless Steel 321 Sheets
Grade 321 is established by adding Titanium to stabilize the alloy. It is the right choice for applications up to a temperature of 900 degree Celsius. It exhibits an excellent combination of properties like high strength, resistance to scaling and phase stability with resistance to aqueous corrosion.
Specification
Chemical Properties
Grade
C
Mn
Si
P
S
Cr
Mo
Ni
N
Other
321
min
–
2.00
0.75
0.045
0.030
17.0
–
9.0
0.10
Ti=5(C+N)
max.
0.08
19.0
12.0
0.70
321H
min.
0.04
2.00
0.75
0.045
0.030
17.0
–
9.0
–
Ti=4(C+N)
max
0.10
19.0
12.0
0.70
347
min.
0.08
2.00
0.75
0.045
0.030
17.0
–
9.0
–
Nb=10(C+N)
max
0.10
19.0
13.0
1.0
Mechanical Properties
Grade
Tensile
Strength
(MPa)min
Yield Strength
0.2% Proof(MPa)
min
Elongation(% in
50mm) min
Hardness
Rockwell B
(HR B) max
Brinell (HB) max
321
515
205
40
95
217
321H
515
205
40
95
217
347
515
205
40
92
201
321H also has a requirement for a grain size of ASTM No 7 or coarser.
This alloy exhibits properties that prove to be extremely beneficial for many industries. It is considerably corrosion resistant. It is resistant to crevices formation in chloride environments up to a temperature of 60 degree Celsius. Grade 321H is the higher carbon variant of this alloy, which has higher strength at higher temperature. This grade of steel has a good thermal resistance, functioning the best at a temperature range of 425-900 degree Celsius. 321H is more suitable for high temperature structural applications as it has higher hot strength. They have excellent weldability with all standard fusion methods, with or without filler metals.
It has as many applications ass the beneficial properties. Some of them include its use in manufacturing aircraft exhaust manifolds. They are also used in manufacturing expansion joints and bellows. Even furnace components are manufactured using this alloy. Because of good thermal resistance, they are used in heat exchangers and heating element tubes. It is also used in spiral welded tubes for burner pipes and flues.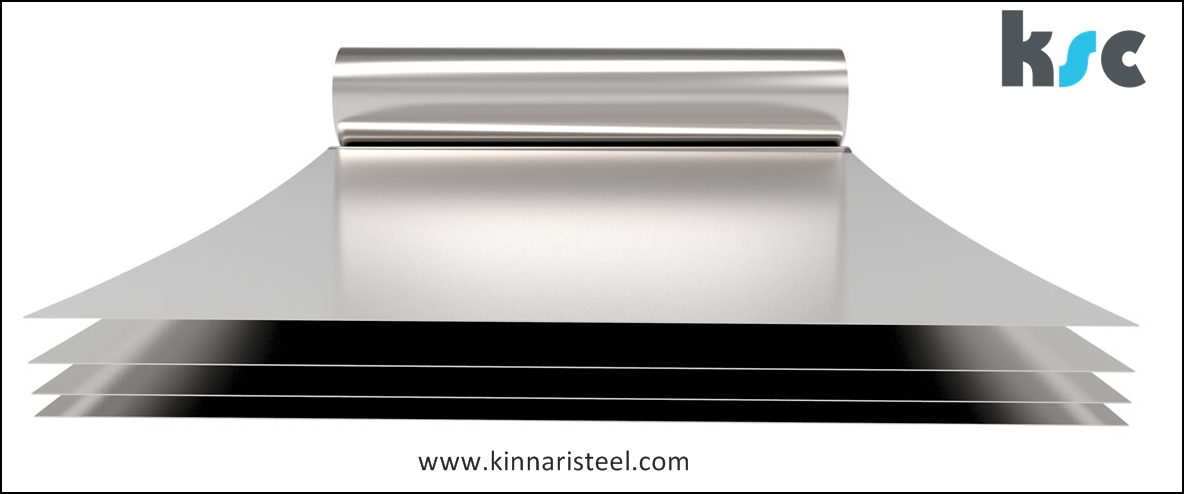 The problem
The market has been growing ever since the Industrial revolution. But unfortunately, so are the dubious practices. The customer ends up being the sufferer in the midst of malpractices. They often get trapped in the chain of commission. They have to pay much more than the product deserves. They are delivered products which tend to fail under high pressure. There are no mill reports to support the quality claims. They seldom have to wait for days before they get the products and after that, the suppliers no longer hold responsibility regarding the after sales services. The materials are inconsistent with the ASTM standards. Lack of proper knowledge often results in the supply of wrong grades, with inappropriate hardness. Poor surface finish is another issue. So, ultimately, it is always he consumer who ends up in a loss.
The solution
Kinnari Steel Corporation is well known for keeping customers away from inconvenience. Customer satisfaction has always been our primary motive, and we religiously follow all the policies which have been made keeping in mind the comfort and contentment of the customer. Our products are made in compliance with ASTM standards. We also have been certified by ISO 9001:2008 , ISO 14001:2004, OHSAS 18001:2007.We pay special attention towards maintaining our stock and ensuring fast delivery, sometimes same day delivery on urgent requests. We also provide heat number on the products so that the customer is able to trace its history and applications. We are known for our excellent after sales services. We never fail to extend a helping hand to our clients, even after the product has reached them. Mill reports in accordance with EN10204 NACE 3.1, NACE 3.2. The impeccable surface finish and appropriate hardness of goods has impressed customers worldwide. The goods are tested both in government as well as private labs. The prices are highly competitive, and thus we ensure that the customer gets every benefit he deserves. We provide an additional benefit of product replacement warranty in case of product failure (though the chances of failure are nil). Once chosen, we guarantee being able to be the first choice of consumers in the years to come.