Stainless Steel Tube Fittings
Stainless Steel Tube Fittings : Manufacturer & Supplier : Kinnari Steel
Stainless Steel Tube Fittings provide more resistance towards oxidation by water and biocide, result in a longer life. They are used for instrumentation and pneumatic applications. Kinnari Steel are Stainless Steel Tube Fittings Manufacturer, Stainless Steel Tube Fittings Stockist & Stainless Steel Tube Fittings Supplier.

Contact Us To buy Stainless Steel Tube Fittings
Kinnari Steel Corporation is one of the leading Stainless Steel Tube Fittings producers in India and overseas. For the past 20 years, we have been engaged in manufacturing and supplying excellent quality. We offer a fine range of tube fittings such as stainless steel reducer, stainless steel elbow, stainless steel tee, stainless steel cross, stainless steel stub ends and stainless steel bends. We make use of the latest tools and techniques in order to manufacture products that meet International standards and have exacting precision. For making sure that only the best products are made available, we inspect each and every item individually, thereby removing any scope of deformed products.
We are well known for our extraordinary services as we aim to fulfil the needs of our clients. We offer unparalleled value-added and after-sales services to all our customers. Excellent quality products, fastest delivery, Utmost care in packaging and product replacement warranty are few of the services that set us apart from other brands. Our unmatched Consultancy service is much talked about in the industry, as we help the customers in making best decisions. We are well known overseas as well and have exported products to over 55 nations. Our customers prefer us greatly and we are highly recommended by all of them.
Stainless Steel Tube Fittings for high pressure are manufactured at KSC. It is sold under our brand KSLOK.
Kinnari steel is manufacturers and suppliers of Stainless Steel Tube Fittings.
KSLOK Stainless Steel Tube Fittings are manufactured to provide compatibility and equivalence with Swagelok and Parker Alok Fittings. Standard material is Brass & Stainless steel. However, our specialization is in exotic alloys such as Monel, Inconel , Hastelloy, Titanium, Duplex, 254 SMO etc.
What is Stainless Steel ?
Stainless steel is an alloy that is made up of iron and generally contains around 11.5% chromium. The addition of chromium allows the alloy to form a protective self-healing oxide film, thereby making them resistant to corrosion and oxidation even at extremely high temperatures. Due to this feature, stainless steel is used for making products across many fields. For obtaining special properties, nickel and other elements can be added to this alloy.
The alloys that make up the family of stainless steels were initially discovered in the year 1913 in Sheffield, England, when Harry Brearley was trying to make a combination of various alloys for gun barrel steels, and he noticed that samples that were cut from one of these trial heats did not rust and were, in fact, difficult to etch.
Various types or grades of Stainless steel are available as per different needs. These grades differ from each other by a few components. All of the grades, type 304 stainless steel is the most commonly used material which has application in making corrosive resistant pipes, in chemical plants, refineries, paper mills, and food processing industries. Similar to type 304, is another grade known as type 304L. The two are almost the same, except that 304L has 0.03% more carbon content.
The grade called as Type 318 is even better at protecting materials from pitting than other chromium-nickel alloys. It is because it contains 2% to 3% molybdenum. This grade is highly useful at places where acids, sulphur water, seawater or halogen salts are encountered.
Type 316 of Stainless steel is highly valuable and is used in the sulphite paper industry and for manufacturing chemical plant apparatus, photographic equipment, and plastics. Similar to Type 304L, type 316L holds a maximum carbon content of 0.03%. Due to this, it is used in welded assemblies without the need of final heat treatment.
Stainless steel is popular due to its excellent favourable properties such as:
Excellent resistance to corrosion- The excellent capability of stainless steel to provide more resistance towards oxidation by water and biocide results in a longer lifetime.
Protection against Corrosion- Stainless steel does not need to have an internal and external coating or cathodic protection. As a result, system costs are highly reduced and it is more compatible with the environment.
Hygienic material- It is highly inert in water because of its very high passive film stability. This makes leaching of alloying elements (Cr and Ni) possible within safe limits and a result, they provide a better quality of drinking water.
Good strength and ductility – Stainless steel is much stronger and has higher mechanical properties when compared to carbon steel and cast iron pipes. Due to this, there is the reduction in the wall thickness of the pipe and in turn it reduces investment costs.
Ease of fabrication – Stainless steel is a highly adaptable material with ease of forming, machining and welding, combined with their good ductility that allows pipelines to be easily installed and modified.
Ease of maintenance – Stainless steel has high corrosion resistance and easy welding capability, thereby reducing water leaks drastically. This, in turn, results in higher cost savings.
Excellent durability – Due to its resistance to crevice corrosion and cavitation, Stainless steel wears off less in pure and polluted waters and even in the atmosphere. It is thus convenient and cost friendly material for long term use and is even eco-friendly.
Recyclable – Stainless steel can be easily recycled up to a 100% and a part of their initial cost can be recovered due to this process.
Due to an extremely high consumption of stainless steel all over the world, its demand is ever increasing. It is required in multiple industries including building and construction industry where stainless steel is used for its attractive appearance, corrosion resistance, low maintenance, and strength. Stainless steel does not need to be treated, coated or painted when put into service. Various other industries are considering using stainless steel for similar reasons as due to its low maintenance requirements.
Manufacturing Steel Tube Fittings is a critical process as it consists of a four piece unit:
Nuts
Body
Front Ferrule
Back Ferrule
They are assembled to a tube to form a leak-free connection.
Ferrules are the heart of Steel Tube Fittings. They are responsible for any pressure the fitting is able to contain. Our Engineers have developed consistent technology for manufacturing ferrules that sustain the highest pressure.
Stainless Steel Tube Fittings come in the following connections
---
Introduction about Stainless Steel Tube Fittings
Steel Tube Fittings are products that are used to connect, mount and configure other products. They are typically used to connect runs of tubing for in-line, offset, multi-port, and mounting configurations to other tubing sections, pipe, hose, and other fluid transfer components. They are designed for instrumentation and process applications where leak-tight performance is critical to quality and productivity.
Nuts
Front ferrule
Back ferrule
Elbows
Tees
Valves
Flanges
150 PSI Threaded Fittings
Sanitary Fittings
Threaded Nipples
Beverage Fittings
Stainless Steel Valves
Butt Weld Pipe Fittings
Tube/Compression Fittings
Stainless Steel Flanges
3000# Fittings
Thread Sealants & Tapes
Hi Pressure Fittings
Quick-Connect Clamp
Custom Sanitary Manifolds
Steel Tube Fittings are mainly used for various domestic purposes such as in kitchen utensils, cutlery, sinks, machine drums and microwave oven liners. It is used in civil engineering for making fittings for doors and windows, street furniture, structural sections, reinforcement bar and lighting columns. In Transport systems, it is used for making exhaust systems, car grilles, road tankers, ship containers and ships chemical tankers. The chemical industry makes use of Stainless Steel Tube Fittings in making pressure vessels, for process piping and for making platform accommodation, cable trays and sub-sea pipelines in Oil and Gas industry. They are also used for making surgical instruments, surgical implants, MRI scanners, catering equipment, brewing, distilling, and food processing systems. Other uses of stainless steel include manufacturing pipes in water and sewage treatment, water tubing, hot water tanks and fasteners.
Properties of Stainless Steel Tube Fittings
Chemical Properties
| | |
| --- | --- |
| COMPONENT | WT. % |
| C | Max 0.15 |
| Cr | 18 |
| Fe | 69 |
| Mn | Max 2 |
| Ni | 9 |
| P | Max 0.2 |
| S | Max 0.06 |
| Se | Max 0.15 |
| Si | Max 1 |
Mechanical Properties
MECHANICAL PROPERTIES
METRIC
ENGLISH
COMMENTS
Hardness, Brinell
228
228
Hardness, Knoop
251
251
Converted from Brinell hardness
Hardness,
Rockwell B
96
96
Converted from Brinell hardness
Hardness,
Rockwell C
19
19
Converted from Brinell hardness.Value below normal HRC range, for comparison only
Hardness, Vickers
240
240
Converted from Brinell hardness
Tensile Strength, Ultimate
690 MPa
100000 psi
Tensile Strength, Yield
415 MPa
60200 psi
at 0.2% offset
Elongation at Break
40%
40%
in 50 mm
Modulus of Elasticity
193 GPa
28000 ksi
tension
Poisson's Ratio
0.25
0.25
Calculated
Shear Modulus
77.2 GPa
11200 ksi
Physical Properties
| | | | |
| --- | --- | --- | --- |
| PHYSICAL PROPERTIES | METRIC | ENGLISH | COMMENTS |
| Density | 8 g/cc | 0.289 lb/in3 | |
Application of Stainless Steel Tube Fittings
Typical applications include:
Oil and gas equipments
Offshore technology
Seawater desalination plants
Chemical industry
Bridges
Storage tanks
Pressure vessels, reactor tanks, and heat exchangers
Rotors, impellers and shafts
Power plants
Petrochemical
Shipbuilding industry
About Kinnari Steel
Kinnari Steel Corporation is a leading distributor of Stainless Steel and Alloy Steel Products. We have been involved in manufacturing and supplying stainless steel 316 pipes since 2 decades. We hold great expertise in sourcing needs of clients for nickel based Alloys. Our aim is to provide best services in the industry and over the years we have gained much prominence due to propulsion and expertise in high nickel alloys. We thus handle each of our clients' queries with great sincerity and help them figure out their requirements.
In order to maintain the highest standards of quality we make sure that each and every unit is individually inspected and tested, thereby cropping out the scope of any sort of anomaly. Great emphasis is placed on making our products in an environment-friendly way and prevents any kind of harm to nature. We are known across our clients for fast delivery of high products and we have a very low rejection rate. We put great efforts in catering to the needs of our clients and thus we have a huge base of happy customers.
Our head office is located in Mumbai. Kinnari Steel Corporation is certified by ISO 9001: 2008 for continued excellence in providing impeccable quality products to its customers.
WHAT PROBLEMS CUSTOMERS TYPICALLY FACE
Nonavailability of products
Late deliveries of goods
Poor/Unprofessional Packing
No control on quality and testing
High rejection rate
Poor after sales service
Supply of wrong grades
Material inconsistent with ASTM Standards
Very hard material for use
Dubious Practices
Lack of knowledge
Product fails under high pressure
High pricing of the goods due to supplier commission
Weld repair of goods
HOW WE SOLVE THESE PROBLEMS AND VALUE ADDITIONS WE PROVIDE
Our customers highly appreciate the World class buying experience that we offer them
We are highly preferred for our fastest delivery service
We provide Mill test report in accordance with EN10204 NACE 3.1, NACE 3.2
3rd Party inspection is carried out
Our products offer High-pressure sustainability
Impeccable smooth surface finish is a characteristic feature of all our products
Product replacement warranty is given on all products
We offer High-quality packaging and Packing for sea and Air transport
We assist Same day shipping of the goods
We have the Highest stock in the country
We follow Stringent Quality Testing and Control
Our products have ISO 9001:2008 , ISO 14001:2004, OHSAS 18001:2007 Certifications
We have a record for <1% rejection rate of the goods in over a decade
We are leading distributors in more than 13 countries
Competitive pricing is offered
We hold a High experience in working with Nickel-Based Alloys
Our Consultancy for alternate sizes and material are highly talked about
We provide Heat Number Traceability on all products
Steel Tube Fittings come with lifetime replacement warranty and NACE 3.1 Certifications. Customers are given leverage of full traceability for original tube fitting.
Our ISO 9001:2008, ISO 14001:2004 & OHAS 18001:2007 serve as trust seals.
Customization is another feature. We offer to mark Stainless Steel Tube Fittings as per our Part Number or Customer Part Number. Threads can be customized in NPT, BSPT & BSPP as per requirement.
One of the major factors of success is the fastest delivery in the Industry. We stock 85,000+ fittings and valve parts for instant deliveries.
Send us your inquiry to see for yourself.
Production:
Our production range includes:
Tube Fitting
Valves & Manifold
Condensate Pot
Flange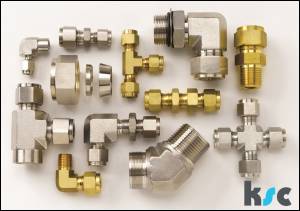 Our production runs in evergreen full capacities. We can extract 30,000 assemblies at full capacity. Automated CNC Machines of German standards produce these parts.
However, the backbone is the stringent quality control and systems. Each and every unit is individually tested prior to dispatch. We have achieved a phenomenal 0% rejection rate in exports in a decade of excellence.
Exports have gained prominence at KSC. We have executed export orders for clients in more than 53 countries so far. The number and volumes continue to increase.
Branding and packaging are as important as the product itself. Stainless Steel Tube Fittings are packed in branded boxes with barcode lot identification stickers. Fittings must reach the customer in the form manufactured. It must be free from damage in transit. We provide plastic cap protection to the threads for safety.
Request your Free Sample Kit for Stainless Steel Tube Fittings.

Send us your requirements now!
LOOKING TO BUY STAINLESS STEEL TUBE FITTINGS? Contact Us