Incoloy 800 Sheet : Manufacturer, Stockiest and Supplier : Kinnari Steel
Incoloy 800 Sheet : Manufacturer, Stockiest and Supplier : Kinnari Steel
Incoloy 800 Sheet are alloys of nickel, chromium and iron. These generally have high resistance towards carburization and oxidation in exposure to high temperature. It also has high tensile strength. Kinnari Steel are Incoloy 800 Sheet Manufacturer, Incoloy 800 Sheet Stockiest & Incoloy 800 Sheet Supplier.

Incoloy 800 Sheets
In the last two decades, Kinnari Steel has emerged as one of the topmost suppliers of Incoloy 800 Sheet. We have supplied Incoloy 800 Sheet all the five continents in the world. With a rejection rate less than one percent, the number of clients being associated with us is increasing with each passing day. We are well known for the excellent services provided by us, both pre and post transaction.
Our stock is rich with this alloy, keeping up with the ever increasing demand.Moreover, we maintain our stock by putting into action instant replenishment as soon as the material is dispatched.The recent years have found a hike in the demand of Incoloy 800 Sheet and in accordance with the increment, our policies have been reformed to be more and more customer friendly. We ensure that our clients get the best out of the trade in terms of quality of goods as well as services.
Know more about Incoloy 800
Incoloy 800 Sheet are alloys of nickel, chromium and iron. These generally have high resistance towards carburization and oxidation in exposure to high temperature. It also has high tensile strength.
Chemical properties
| Ni | Fe | Cr | Cu | Ti | Al | C | Mn | S | Si |
| --- | --- | --- | --- | --- | --- | --- | --- | --- | --- |
| 30.0-35.0 | 39.5 min | 19.0-23.0 | .75 max | .15-.60 | .15-.60 | .1 max | 1.5 max | .015 max | 1.0 max |
Specification
| | | | | | | | | |
| --- | --- | --- | --- | --- | --- | --- | --- | --- |
| Standard | UNS | EN | Werkstoff Nr. | GOST | BS | JIS | OR | AFNOR |
| Incoloy 800 | N08800 | X10NiCrAlTi32-20 | 1.4876 | ЭИ670 | NA 15 | NCF 800 | XH32T | Z8NC32-21 |
Incoloy 800 resists corrosion in many aqueous media. Nickel content helps combat stress corrosion cracking. It exhibits great heat resistance and stability for service up to 816 degree Celsius. It also shows resistance to oxidation and carburization at elevated temperatures. It also shows good creep resistance and prevents rupture. Chromium provides heat and aqueous resistance and iron helps combat internal corrosion. Nickel also makes it more ductile. It can be very easily formed, welded and machined.
The versions of Incoloy 800 Sheet used for high temperature structural applications, are Incoloy 800H and 800HT.It is used for several applications in numerous industries. It is used in heat treating equipment like baskets and fixtures. It is also used by the chemical and petrochemical industries for heat exchangers and other equipment. It is especially used in nitric acid media where resistance to stress corrosion cracking in the presence of chloride ions, is required. It also finds usage in nuclear power plants as parts of steam generator tubing.It is also used to sheath domestic electrical appliances. The pulp and paper industry also uses it in digester-liquor heaters. Thus, it has a wide range of applications.
The current market scenario
In the ever increasing competition in the market, customers are likely to get trapped in the midst of dubious practices and the commission of greedy middlemen. Most of the times, the products are unavailable, and they have to wait for days to get them. Even after getting them, they end up dissatisfied as the products are not up to mark. They are often lost after the delivery of products, as the after sales grievances are often ignored. Also, due to high industrial demand, the material which should be thoroughly checked, unfortunately fails to meet the ASTM standards. Sometimes, due to the pressure of demands and lack off knowledge, the producers end up supplying wrong grades of the alloy, resulting in major losses. The products manufactured like that are likely to yield under pressure. The alloys have poor surface finish and are too hard to be put to good use. Lack of proper knowledge often results in the supply of wrong grades, and ultimately the customer is the sufferer in this vicious circle.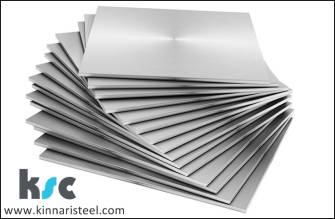 What makes us different?
Kinnari Steel keep our consumers from facing the problem of the unavailability of alloys through our policy of maintaining a constant stock. This implies that as soon as the material is dispatched to be transported to the customer, the other set is ready to replenish the stock. We have been certified by ISO 17025 Standards Laboratory on the quality of the alloys we produce and supply. Our products are made in compliance with ASTM standards and they also go through an unbiased third party inspection in government as well as private labs. We focus on maintaining correct degree of hardness and adding appropriate amount of other constituents. We have the fastest delivery service, giving utmost priority to urgent orders. A special team is assigned the work of adopting packaging methods that are highly professional. So the products retain their economic value on reaching the consumer. Once associated with our clients, we are always eager to extend our services whenever they need. This implies that we readily serve our clients even after they receive the goods, through our excellent after sales services.We are available almost every time of the year to attend to the problems faced by the clients and fix them in the most effective manner. We specify the heat number on the raw material, so that the consumers can trace the history and application of the product. The consumers can freely contact us regarding various grades and shapes of the alloys. If, in any case, we somehow fail to meet the desired quality, we assure the customers of a product replacement warranty. With a mill test report in accordance with EN10204 NACE 3.1, NACE 3.2, we are associated with a large number of happy clients. The past records suggest that we have had less than one percent rejection rate over the last decade. This is a proof of how we hold customer satisfaction as a primary responsibility.