Titanium Sheet : Manufacturer, Stockiest and Supplier : Kinnari Steel
Titanium Sheet : Manufacturer, Stockiest and Supplier : Kinnari Steel
Titanium Sheet has numerous applications. They are used in aerospace engineering and surgical implants. Kinnari Steel are Titanium Sheet Manufacturer, Titanium Sheet Stockiest & Titanium Sheet Supplier.

Titanium Sheets
Kinnari Steel is one of the leading producers and suppliers of Titanium Sheet. Our performance in the last decade has led us to a platform of immense trust by the customers. That is primarily because of the high quality of goods and services provided by us.
Our fast delivery, and maintenance of quality as per ASTM standards, have allowed us to enjoy less than one percent rejection rate. This implies how important customer satisfaction is for us. We are among the top suppliers who ensure the maintenance of the material not only till it reaches your doorstep, but also after that.
Know more about Titanium
Titanium is one of the most abundant metals on Earth. Not only the physical abundance, but the abundance of properties which allow its applications in a large section of the industrial sector. It exhibits a unique, and favorable set of properties, namely low modulus of elasticity, very high resistance to corrosion by forming a passive oxide film and excellent ductility. It is highly cost efficient because of an attractive application to price ratio, and durability (relatively longer life). It has a high tensile strength almost equal to those of several low density alloys, but is approximately 40% lighter than them. High thermal stability is also one of the important properties of titanium sheets.
Titanium 5 and Titanium 2 are two of the most important alloys of the metal. Titanium 5 has excellent resistance towards crack propagation and fatigue. It works the best at ambient temperatures as it exhibits really good tensile strength and creep resistance in that range.
Titanium 2 is used when corrosion resistance is needed. It also shows appreciable ductility.
Titanium Sheet has numerous applications. They are used in aerospace engineering and surgical implants. They are also used in chemical industries. They are used where good electrical conductivity is required.
Moreover, Titanium is the metal of the future. Because of the multi folded benefits, it is likely to find application in the upcoming projects like in the Ocean Thermal Energy Conversion Plants.
The problem
In the ever increasing competition in the market, customers are likely to get trapped in the midst of the malpractices like supplier commission, and unavailability of raw materials. Even if they get the products, they are not up to mark. The level of hardness is not appropriate. There are often no mill reports to guarantee the good quality of products. The material is often very hard to be put to use and yields under high pressure. The goods take forever to be delivered and when they are, they tend to lose their economic value on account of poor, unprofessional packaging. The suppliers often supply wrong grades. Also, many times, rejected alloys are supplied without proper treatment. The products fail to meet the ASTM standards, and fail under high pressure.There is no control on quality and testing. Customers are also found complaining about the lack of after sales services in transactions with most of the firms. The producers turn their heads away as soon as they supply the materials to the consumer, and extend no further help if something goes wrong. Ultimately, it is the customer who is the sufferer in this vicious circle.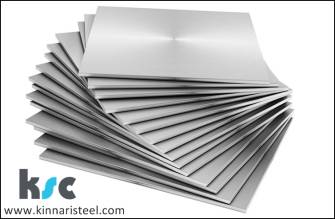 The solution
We, at Kinnari Steel, keep our consumers from facing these problems through our policy of maintaining a constant stock. This implies that as soon as the material is dispatched to be transported to the customer, the other set is ready to replenish the stock. We have been certified by ISO 17025 Standards Laboratory on the quality of the alloys we produce and supply. We also make each and every piece of our produce go through a careful inspection in both government as well as private labs. Therefore, our customers rarely complain about the quality of the material. We have been certified by ISO 9001:2008, ISO 14001:2004, OHSAS 18001:2007. Our products are made in compliance with ASTM standards. Thus, the grades have appropriate hardness levels. Once associated with our clients, we are always eager to extend our services whenever they need. This implies that we take responsibility even after the customer receives the goods through our after sales services. We adopt professional packaging methods to ensure that the products reach our clients in their best form. We provide our clients with world class buying experience. We have the fastest delivery service, giving utmost priority to urgent orders. We are extremely accessible in terms of consultation about various sizes and grades of the alloys. We assure our customers that our claims are justified, and not just hollow self-appreciation. If, in any case, we somehow fail to meet the desired quality, we assure the customers of a product replacement warranty.We specify the heat number on the raw material, so that the consumers can trace the history and application of the product. Also, our after sales services are as good as the materials supplied by us. We are available anytime of the year to attend to your grievances. With a mill test report in accordance with EN10204 NACE 3.1, NACE 3.2, we happily claim that we place customer satisfaction above everything. And that has led us to be distributors of this alloy in more than 13 nations. We happily claim a rejection rate of less than one percent. Once chosen, we will always make each and every penny paid by the clients, count.